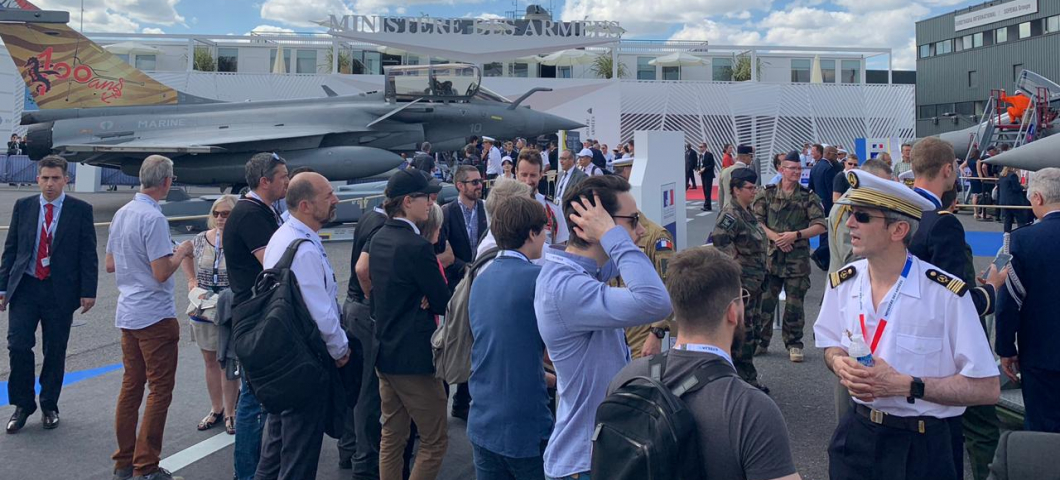 19 June, 2019 13:44
3250
The representative of the Ministry of Defence Industry is participating at "Paris Air Show-2019"
"Paris Air Show-2019" held under the patronage of the French Aerospace Industries Association, was launched in Paris as of June 17. Counsellor to Minister of Defence Industry Farrukh Vezirov is participating in this exhibition, which is considered one of the most prestigious exhibitions in the field of military aviation.
During the exhibition, counsellor to Minister Farrukh Vezirov met with the heads of French companies Nexter", "Thales", "CS Communication", "Lacroix" and the Turkish "TAI". Issues of bilateral cooperation in the military-technical sphere were discussed at the meetings.
Farrukh Vezirov met with the leadership of "Nexter" and discussed the establishment of cooperation on production of various types of defense products, including the joint production of wheeled armored vehicles at the enterprises of the Ministry of Defence Industry as well as production and integration of various weapon systems on the sea and air platforms in the field of robotics. The parties have defined a roadmap for the implementation of these projects. An agreement was also reached to continue negotiations during the visit of "Nexter" experts to Azerbaijan in July.
Counsellor to Minister met with the management of "Thales" on creation of joint regional service center for maintenance and repair of the companys products in Azerbaijan and neighboring countries. At the same time, the parties discussed to establish a joint production of various types of detection and radar systems and agreed to execute the abovementioned joint projects.
During the visit, the meeting was also held with the representatives of the Italian company "Leonardo" in order to continue the negotiations on joint projects, which discussed in early June at the Ministry of Defence Industry. Moreover, the discussions were held with the representatives of "Airbus" company, being the largest transnational airline in Europe as well as an agreement was reached on the implementation of projects in the aerospace field. The parties agreed to hold the next stage of discussions in Azerbaijan with the participation of experts from both side.
Within the frame of the visit, Farrukh Vezirov met with the Head of International Cooperation Department of the Ministry of Defence of France, Thomas Lorne. The parties discussed the establishment of military-technical cooperation between two countries.
At the meetings, Farrukh Vezirov was accompanied by French defence attache in Azerbaijan, Lieutenant-Colonel Danny Pith.
"Paris Air Show-2019" will last until June 23.