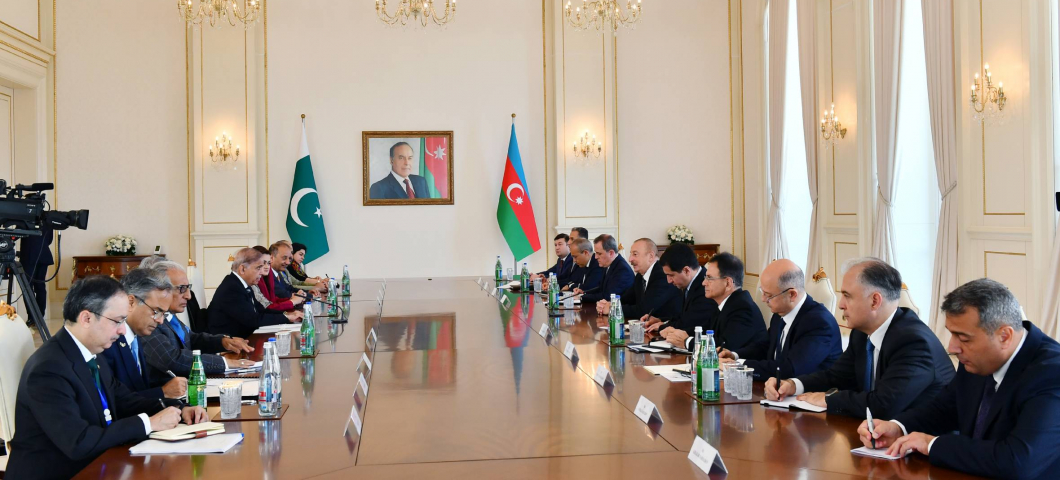 16 June, 2023 09:00
559
Ilham Aliyev and Prime Minister Muhammad Shehbaz Sharif held expanded meeting
President of the Republic of Azerbaijan Ilham Aliyev and Prime Minister of the Islamic Republic of Pakistan Muhammad Shehbaz Sharif have held an expanded meeting.
Addressing the meeting, President of Azerbaijan Ilham Aliyev said:
Dear, Mr. Prime Minister, my dear brother and dear guests, welcome to Azerbaijan. We are very glad to host you in our country. Thank you for accepting my invitation. I am sure that the visit will strengthen brotherly relations between our countries - relations based on partnership, friendship and brotherhood. We just discussed with the Prime Minister a broad agenda of our bilateral relations, once again reconfirmed our strong support to sovereignty and territorial integrity of our countries. I expressed gratitude to Mr. Prime Minister for supporting Azerbaijan's territorial integrity during the times of occupation, during the Second Karabakh War and after we restored our territorial integrity. Once again, we reconfirmed our strong support to Pakistan on the issue of Kashmir, and we openly support and will continue to do it in all international institutions.
We discussed broadly today important issues of our trade and economic cooperation, energy, transportation, defense industry. Now in this format, we will continue our discussions. I am sure that as a result of the visit we will elaborate a new program of cooperation in different areas, which will strengthen our partnership even more.
Mr. Prime Minister, welcome once again.
x x x
Prime Minister of Pakistan Muhammad Shehbaz Sharif said:
- Thank you, my brother President Ilham Aliyev. It is a great honor to meet with you again. Those seated here are our brothers and sisters. Let me say this first, my brother Prime Minister Nawaz Sharif told me yesterday that you would be going to Baku, so please convey my sincere greetings to my brother President Aliyev. He said, Shehbaz, Baku will make a great impression on you. Mr. President, your city has not just impressed me, it has made a deep impression. What I have seen since last night reflects your vision, your leadership and your dynamic efforts to build your country over the years. Without being afraid of contradiction, I can say that I can compare what I have seen in Baku so far. You can compare this city with any most developed and beautiful city in the world. And there is no exaggeration here. One of the issues I intended to table here was that I wanted to ask you to send the best landscapers to Pakistan. The landscape here is beautiful, believe me, I was impressed.
President Ilham Aliyev: Thank you.
Prime Minister Muhammad Shehbaz Sharif: Today I visited the grave of your genius father. I must say that his soul must be very happy because of the great work you have done. I congratulate you. I think that my visit to Baku is very important. I believe that when I return to Islamabad, I will have learned a lot from the steps of such a leader in the field of public service.
My dear brother, Mr. President, we are two fraternal countries. Our relations are based on mutual trust, respect and utmost sincerity. You have always supported the Kashmir issue and stood by Pakistan.
x x x
President Ilham Aliyev thanked for the greetings, and asked the Prime Minister to pass on his greetings to Nawaz Sharif.