The products of the Ministry of Defence Industry will be showcased at "MILEX-2019" in Belarus
10.05.2019 16:30
On May 15, "MILEX-2019" 9th International Exhibition of Arms Military Machinery will be held in Minsk, with the organization of the State Authority for Military Industry of the Republic of Belarus. It is planned to hold the 8th International Scientific Conference on Military-Technical, Defence and Security Issues during four days exhibition. The Ministry of Defence Industry of the Republic of Azerbaijan will also be represented at the event.
The Ministry of Defence Industry has participated with an official delegation at "MILEX", held biennially as of 2001. For the first time, the Ministry of Defence Industry will be represented with stand and display their products at the exhibition, being one of the largest exhibition in the East European region due to number of exhibitors and infrastructure. The delegation headed by Deputy Minister of Defence Industry Yahya Musayev will pay visit to Minsk.
The Ministry of Defence Industry, taking into account the expansion of export opportunities along with meeting domestic needs in the sphere of manufacturing defence products, will demonstrate export-oriented products such as sniper rifles, assault rifles, assault machine guns, grenade launchers, mortars, various types of ammunitions, etc. at "MILEX-2019".
The discussions will be carried out on development of military-technical cooperation with relevant authorities and implementation of new joint projects within the scope of "MILEX-2019", being considered as a platform for enhancement ofcolloboration.
During the event, the meetings of the Deputy Minister Yahya Musayev with government officials of Belarus and heads of official delegations, as well as representatives of leading companies of several participating countries are scheduled.
It should be noted that Ministry of Defence Industry has been participated in more than 40 international exhibitions and demonstrated its products up to date.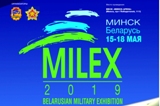 Readed: 989