Deputy Minister Yahya Musayev received the Delegation of Egypt
08.08.2018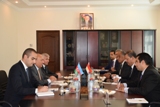 On August 8, Deputy Minister Yahya Musayev received a wide delegation led by the Chief of Armament Authority of the Ministry of Defense and Military Production of the Arab Republic of Egypt, MG Tarek Saadzagloul Tolba, being on a visit to Azerbaijan on the invitation of the Ministry of Defence Industry.
Yahya Musayev hailed the development of cooperation between Azerbaijan and Egypt in various spheres.
Deputy Minister informed the delegation in details on the activities of the Ministry of Defence Industry.
During the meeting held in cordial and friendly environment the sides discussed the areas of defense industrial cooperation and other issues of mutual interest.
The delegation head Tarek Saadzagloul Tolba thanked for sincere welcome.
The Ambassador Extraordinary and Plenipotentiary of Egypt to Azerbaijan Adel Ibrahim Ahmed Ibrahim has also attended the meeting.
Within the frame of the visit delegation members attended facilities of the Ministry of Defence Industry and got acquainted in details with manufacturing process.
Readed: 2628