Minister Yavar Jamalov has received a Minister of Defense and Armed Forces Logistics of the Islamic Republic of Iran
21.02.2018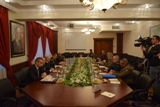 On February 21 Defence Industry Minister Yavar Jamalov received a big delegation led by Minister of Defense and Armed Forces Logistics of the Islamic Republic of Iran, Brigadier General Amir Hatami, being on a visit to Azerbaijan.
Yavar Jamalov has informed a delegation on the Ministry's activity.
During the meeting, being held in warm and friendly environment, the parties exchanged of views on prospects of cooperation development between the two countries in the sphere of defense industry.
The delegation head, Brigadier General Amir Hatami, expressed gratitude for warm welcome.
Readed: 3961