Opening of plant for production of rounds for revolver type grenade launcher of Production Union "Sharg" was held
23.06.2017
On June 23 the President of the Republic of Azerbaijan, the Supreme Commander-in-Chief Ilham Aliyev attended the opening ceremony of the plant for production of different types of rounds for 40x46 mm grenade launcher MSGL 40 of the Production Union "Sharg" of the Ministry of Defence Industry in Shirvan city.
Defence Industry Minister Yavar Jamalov has briefed the Head of State on that the plant was built to set up serial production of four types of rounds (fragmentation, HE, star parachute and smoke) for 40x46 mm revolver type grenade launchers meeting NATO standards to eliminate the enemy manpower and firing equipment as well as to fight with thin-skinned and unarmored equipment.
The Head of State Ilham Aliyev has put the plant into operation.
It was noted that the products are able to eliminate the enemy manpower and armored vehicles at 400 m distance. The plant has 7 production sites: machining, stamping, chemical polishing, pressing-in of explosives, assembling etc. To manufacture the products the high-end equipment meeting up-to-date standards including universal and special process equipment – CNC lathes and milling machines, hydraulic and mechanical presses with different stroke forces, thermoplastic automatic machines, thermal and chamber electrical furnaces have been purchased from the dedicated enterprises of Sweden, Germany, Turkey, Bulgaria, Serbia, Slovenia, Russia, Israel and etc.
It was also mentioned that to assimilate the manufacturing process the necessary special process equipment and tooling have been manufactured and applied at the plant. Moreover, 300 names of special and universal measuring instruments and attachments have been purchased to carry out quality tests and acceptance inspection of the ammunition. Within the scope of the project 40 plant workers have been trained by foreign technical specialists. Annual manufacturing capacity of the plant is 15 thousand rounds at single shift day schedule.
Setting up of this kind of facilities makes an important contribution to the development of defence industry in our country. Putting into operation of this type of plants shall contribute to widening of the range of defence products produced in our country and strengthening of the defence potential of Azerbaijan. Moreover, it shall facilitate the expansion of export capabilities of the republic in this sphere and thus reduce it's dependence on foreign supplies.
After acquaintance with the enterprise the President Ilham Aliyev met with the personnel of the Ministry of Defence Industry and a group of military men from the Ministry of Defence.
The Head of State made a speech at the meeting.
Later on the floor was taken by the Defence Industry Minister Yavar Jamalov and the Minister of Defence Zakir Hasanov.
Then a photo has been taken as a keepsake.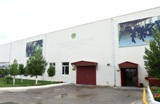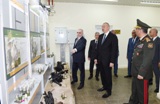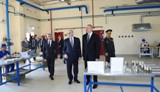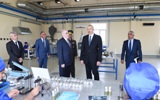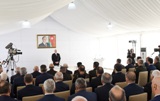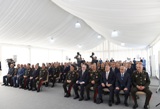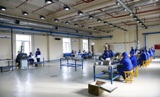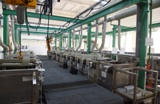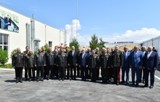 Readed: 4179