Opening of plant for production of rounds for light antitank grenade launcher of Production Union "Sharg" was held
23.06.2017
On June 23 the President of the Republic of Azerbaijan, the Supreme Commander-in-Chief Ilham Aliyev attended the opening ceremony of the plant for production of four types of rounds for the light antitank grenade launcher TƏQ-7V2 (RPG) of the Production Union "Sharg" of the Ministry of Defence Industry in Shirvan city.
Defence Industry Minister Yavar Jamalov has briefed the Head of State that the plant has been built to set up serial production of four types of rounds (fragmentation, tandem HE, thermobaric and intert) for light antitank grenade launchers TƏQ-7V2 (RPG) to eliminate enemy tanks, self-propelled artillery systems, equipment, armored vehicles fitted with explosive reactive armor, manpower in the open area and in trenches at 700 m distance.
The Head of State Ilham Aliyev has put the plant into operation.
It was noted that at the plant there are 10 production sites, including automated machining, heat treatment, chemical polishing, pressing-in of explosives, express laboratory, assembling and etc. 45 types of high-end process equipment meeting up-to-date standards have been purchased from the leading in the field countries: Germany, USA, France, Holland, Italy, Bulgaria, Austria, Turkey, Ukraine and Taiwan and installed at the facility to manufacture the ammunition. Among them are CNC lathes and milling machines, hydraulic and mechanical presses with different stroke forces, thermal and chamber electrical furnaces as well as a wide range of laboratory equipment to carry out test trials and etc. Moreover 280 names of special and universal measuring instruments and attachments have been purchased to carry out quality tests and acceptance inspection of ammunition. 170 new work places have been created at the plant. All plant personnel have been specially trained by foreign experts. Moreover, working with explosives personnel after having been specially trained have been awarded certificates. Annual manufacturing capacity of the plant is 20 thousand rounds at single shift day schedule allowing to satisfy the needs of the security and law enforcement agencies. In case of availability of requests for these products from foreign customers the possibilities of their export could be considered in future.
Participating in the opening ceremony the Head of State Ilham Aliyev wished all the success the to the plant's personnel.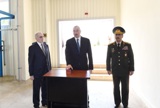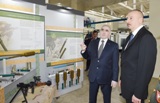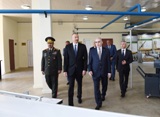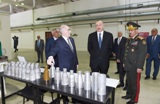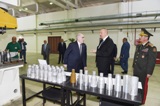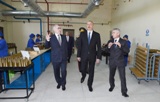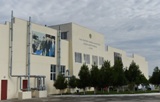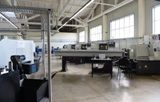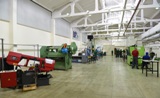 Readed: 3165