Minister Yavar Jamalov received Minister of Foreign Affairs and International Cooperation of Djibouti
24.02.2017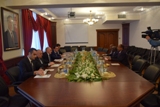 On February 24 the Defence Industry Minister Yavar Jamalov received delegation headed by Minister of Foreign Affairs and International Cooperation of Djibouti, Mahmoud Ali Youssouf being on a visit to Azerbaijan.
Minister Yavar Jamalov hailed the existing relations between Azerbaijan and Djibouti and briefed the delegation on the Ministry's activities.
Mahmoud Ali Youssouf expressed gratitude for cordial welcome.
A wide exchange of views on issues of mutual interest took place during the meeting.
Readed: 2315